由于我们出售的instadub软件客户已经有几百人,目前邮箱发送自动升级包已经比较麻烦了,所以我们会定期把升级包存放到百度网盘,然后在这里提供最新的版本下载地址,方便大家下载。
本站最新提供Instagram加粉和点赞服务,配合软件使用效果更好。点我了解
目前 Instadub升级到最新版本3.619(测试版)购买客户百度网盘下载.
本站更新日期:2019-2-22日
下载链接(老客户需要下载密码可以联系我们微信客服获取):
本站包年vip客户招募中: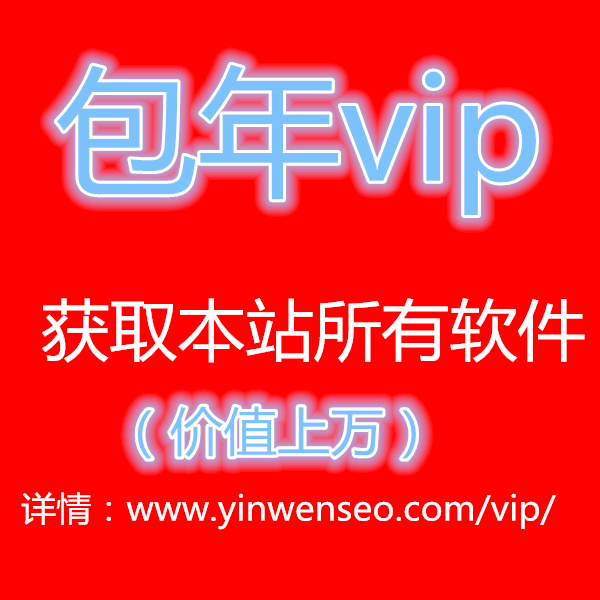 软件界面截图: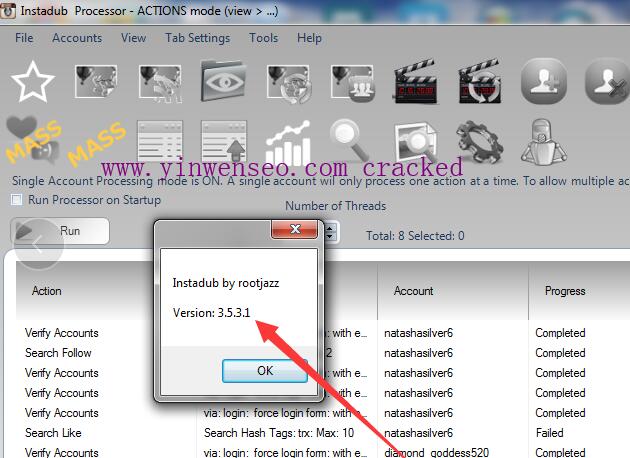 老客户特别注意(如果你使用的版本是3.501以前的版本更新,需要按下面的教程操作):
一、关于NET Framework版本升级
instadubv3.501版本开始需要安装.net 4.52版本,以前安装的4.0版本已经不行,需要升级,xp系统不支持.net 4.5所以你系统至少需要win7及以上系统!!!!!!!升级安装后需要重启电脑才生效
 .NET Framework 4.52
下载地址:https://www.microsoft.com/en-us/download/details.aspx?id=42642
二、删除以前版本的运行数据
由于这次更新变化比较大,所以需要测底卸载一下老版本的数据。
首先转到instadub软件主界面上点击help-app data转到软件的保存数据的目录,然后删除下面截图的3个文件,然后重启软件。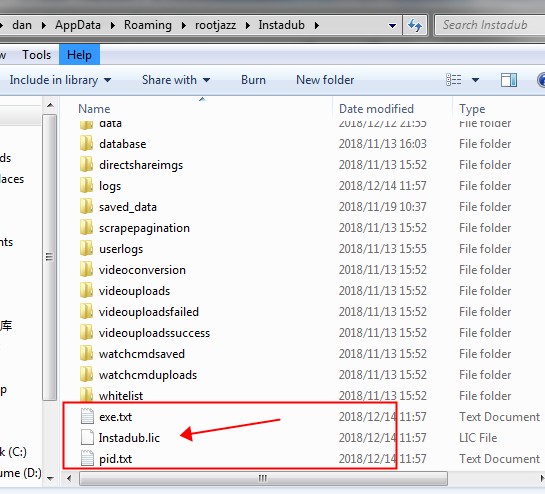 删除后我们就可以使用新版本了。
三、新版本重新登录
当删除了旧版信息,重新登录instadub软件时会弹出下面的窗口
我们在instadub软件升级包里面提供了对应的授权信息,复制对应输入即可(ps:只复制冒号后面的内容,另外就是第一个框是输入key 后面那个是输入email)

升级方法:下载解压到不同路径下面即可,软件里的账号和设置不会改变!
信息提示:
目前软件支持第三方收费的验证码识别服务(注意只是图形验证码 不是短信验证哈),如果购买2captcha的识别服务 参考下面的教程地址:https://www.yinwenseo.com/2captcha/ 购买后在软件setting模块里面设置api到2captcha的地方就行。
更新日志:
展开
3.619 21/02/2019
3.618 20/02/2019
Bulk remove working hours adding to accounts > right click
scraper tab, working with large files. Automatically split a large file into (n) smaller files to be processed by all selected accounts to allow for faster scraping via threaded processes
Action tabs (follow / like / commenting etc) can now specify to resume scraping position that persist over action repeats. Allows more efficient scrape > actions over large data sets without havaing to parse through previous results
3.617 19/02/2019
handle illegal unicode in search results not breaking parsing
promo module bug fix if no media action specified warning
Better conversion data recorded that will map conversions to search_type and search_input
Post Images tab, now allowed specifying specific images to specific locations with specific usertags (in addition to existing bulk assigning
3.616 18/02/2019
post images with location fix due to ISG change in location response spec
fix bugs due to last update causing image routines to not record successful upload if not sharing DM after post
better handling of results per step for custom search if first step returns only single result
DM bug fix
3.615 15/02/2019
Function to send DM / Share DM image after posting image to profiles / thread (conversation / group) IDs, with option to search for users to share/ DM to)
Scraper tab allows scrapes starting with a FILEPATH to be automatically split over multiple accounts for faster processing without manually having to specify split files
option to resume scrapes from file path
promo module now include preaction module
improve bulk updating actions from promo module
processing tab, right click to update search term used for search-and-action actions
3.614 13/02/2019
bio now updates with linkable #hashtags and @mentions
update accounts URL token <clear> to remove existing URL
3.613 12/02/2019
working hours fluct added)
updates to location search due to ISG changes
delay follow up DMs with token %x% where x is minutes to delay DM
3.612 09/02/2019
upload video albums (right click videos to assign albums/load from folders to albums)
Video reposts now works with video albums
3.611 08/02/2019
comment watch file / mass comment watch folder improvements
inbox module option to download images
3.610 05/02/2019
Handle new confirmation challenge
Better handling when repeated challenge verifications required
3.609 03/02/2019
update to image posting that caused some accounts to fail uploading
3.608 02/02/2019
3.607 01/02/2019
update video posting due to ISG changes
Conversation inbox view update
auto replies fix for replying to mails found in pending
fix bug with detecting own media shares as received
3.606 31/01/2019
scrape highlighted stories: option CSV input: user,highlight_name
multi search import / export fix
Promo logging fix for out of work hours
like post from file when profile specified fix
handle new empty response in tag feed
option to allow all accounts created to be specified to allow getsmscode api
improved logging global blocks
mute after follow option added
3.605 26/01/2019
Mass Comments use comments once to apply across repeats
DM action to allow tokens to specify to send image (direct share) from within DM action: #img_# #img_# #img_recent# #img_rand#
add account prompted to create whitelist of existing followings
DM pre action option added
Email scraper (of website with proxy and thread support) can not scrape businss contact emails and full details will log as such
3.604 22/01/2019
rewritten inbox view to show conversations, not messages
3.603 22/01/2019
3.602 21/01/2019
3.601 19/01/2019
watch stories story reel bug fix
64bit build
improvements for pre actions dropping out early
Introducing 64 Bit Build
Please note, there could be new issues arising from moving to 64bit, if you experience any crashes / error dialogs etc let us know ASAP: support[at]rootjazz[dot]com
3.600 17/01/2019
Fix for media details ISG change
option to remove followers rather than block / unblock
3.551 14/01/2019
processing gui bug fix
process logs view update
scrape conversions in daily stats action option to stop scrape when find previously scraped follower
react module can now scrape old activities and ignore, then from next run will react to only new activities
3.550 14/01/2019
3.549 12/01/2019
Stats bug export file extra line bug fix
3.548 11/01/2019
watch folder upload @mentions and image tags unique option to edit action function added
igramtool import created accounts function on ACCOUNTS tab
3.547 10/01/2019
GetsmsCode API now works with country codes for different country mobile numbers: Country code info at getsmscode
locationwatch stories module bug with whitelist add profile URL fixed
3.546 09/01/2019
location feed improvements to scrape more results
3.545 09/01/2019
auto mentions / image tags have right click > edit action setting to specify unique (default) or not on the @mentions / usertags
debugging hidden label
3.544 04/01/2019
GDPR TOS accept attempt
Scrape from file option to restart from previous location over action restart
react send DMs duplicated log bug fix
3.543 03/01/2019
email code submission bug fix
3.542 31/12/2018
Business accounts can now post a story link to video stories
3.541 30/12/2018
Business accounts can now post a story link
3.540 24/12/2018
Update accounts tab added option to update phone: WARNING new testing feature, use with caution
3.538 16/12/2018
Mass File Reader bug fix not reading files
multi processing logs window option: HELP > CONFIG > MULTI WINDOW PROCESSING LOGS
Upload Images, set meta can load captions from text file
3.537 16/12/2018
edit action > images: max items fix
scrape tab: output type: csv full details: includes caption text
3.536 14/12/2018
share action debugging and better account selection function
3.535 13/12/2018
download images update due to ISG change
3.535 13/12/2018
download images update due to ISG change
3.534 10/12/2018
Fix bug with shared action
3.532 07/12/2018
Watch folder caption files (.txt / .caption) fix
3.531 04/12/2018
Influencer scrape added to scraper tab
3.530 30/11/2018
promo efficiency improvements
option added to not login after verification challenge and rely on cookies
pre-action improvements regarding main action media if relevant testing correct number of items for 4 to hit
3.527 28/11/2018
search action account names readded to processing column
login after verification attempts to handle looping when using apparently bad proxies
fix bitly token bug
3.526 26/11/2018
rebuild bug fix for: shared actions better loading of only valid working (non-blocked) accounts)
3.525 24/11/2018
mass watch reader allows repeat_hours / repeat_mins tokens
fix bug with shared action stopping when one account has a type of block
shared actions better loading of only valid working (non-blocked) accounts)
3.524 22/11/2018
random media custom search step fix
3.523 21/11/2018
improved react GUI showing is reactions not set
react module checking not processed before before reactions
3.522 20/11/2018
improved time since properties added to CSV FULL details output for medias
custom search step added: random media of
gui improvements
3.521 19/11/2018
login after challenge verification to handle strange cookie header from ISG (possibly related to logout response)
scraper tab max id bug fix for assigning with search drop down
3.520 17/11/2018
improved logging / debugging
resumed scraping from max_id database load / save bug fix
3.519 16/11/2018
auto back up option added to TOOLS menu. Specify how often (hours) to take a backup and save it to any specified folder (local / network / dropbox / cloud storage etc)
fix bug with cancelled actions not flipping to failed on completion
vastly improved using multiple accounts for scraper tab
shared search_action actions will now share search and filter requests across all shared accounts
3.518 15/11/2018
right click > SAVE PROCESSED ITEMS > fix issue exporting not just processed by account
right click > SAVE PROCESSED ITEMS > ALL WITH DATE option added to get processed date as well
3.515 14/11/2018
handle licensing if license file corrupted fix
3.514 13/11/2018
LOG failed actions with account (if applicable) to logs dir
Image watermarking can now watermark with an image
handle licensing if license file corrupted
3.513 12/11/2018
rebuild
FILE > Start instadub_monitor program with custom name arg option added
fix for monitor support for custom database names
3.512 08/11/2018
monitor support for custom database names
resume scraping for searches
commnents can now reply to comment. In comment use token <reply_first< to reply to first comment <reply_rand> to reply random comment <reply_123456> where 123456 is the exxact comment ID to reply to
3.510 08/11/2018
submit code improvements to handle new responses from ISG
email verification logic flow fix
submit SMS / Email code improved logging
3.508 07/11/2018
getsmscode logic flow fix
3.507 06/11/2018
accept DM requests and send DM updated to use daily limit
delete images after posting update
SMS verification bug fix
once per profile per days bug fix
3.505 05/11/2018
cache update for media items speed improvement
fix for introduced bug with ghost followers couple of update ago
3.503 02/11/2018
rebuild: 5th nov
global procssing option for AUTO MENTIONS / AUTO IMAGE TAGS, right click menu on accounts list GLOBAL PROCESSING > AUTO MENTIONS / IMAGETAGs
update scrape tab FULL CSV output to include more items and to include CSV headings for values
fix crashes with previous update
getSMS update
loading issue with access to keys file debugging
3.501 31/10/2018
Note: Update requires .net framework 4.52
Advanced Image Uniqufyin PreProcessing module added: modify: brightness / tint / heu / saturation / resize+crop as % of original size / flip image horozontally / sharpen / Filter (black and white, gotham, hisatch, lomograph, polaroid, comic, greyscale, invest, losatch, sepia)
3.500 30/10/2018
proxied access to getsmscode added
update to handle spec of stories scrape
pre actions order ranomised
3.499 26/10/2018
3.498 24/10/2018
account forms avatar scraping improvements
3.496 20/10/2018
Auto SMS verification via getsmscode
Request SMS to account mobile
Submit received SMS code
Watch folder location property fixed
3.495 15/10/2018
ghost followers return urls / ids option
debugging info for comments not posting issue
3.494 10/10/2018
Custom search index bug fix
3.493 09/10/2018
Comment module can write posted comment ID to watch folder for automatic MASS LIKE COMMENTS actions
3.492 09/10/2018
improved forced pausing when checking profile details / media details when filtering
3.490 04/10/2018
promo module fix for reloading account bug
3.489 03/10/2018
account load issue debugging
submit email code fix
promo like processed logs update
3.486 24/09/2018
upload images tabs allows you to append meta captions to existing by using current caption token #current#
story upload will add bars to image to correct aspect ratio same as mobile app
3.485 22/09/2018
location feed scrape can return stories if exist
Watch stories module now has option to search for stories to watch just those (previously would search for profiles then watch all stories of profile)
3.484 21/09/2018
ghost followers function will check for watchers of stories
Comment module, will now detect when commenting on a story and use "reply to story" function
scrape hashtag stories
3.482 18/09/2018
fluctuate daily limits via account details form or right click accounts list menu
reposting images as stories option being lost of repeat fixed
image resizing fixes
edit action: nummax fix
randomise bit.ly to bitly.com / j.mp
saving image id instead of profile id for profile search on searchdrop on scraper tab
3.479 17/09/2018
fix bug when redrawing image max width to fit IG aspect ratio
3.478 08/09/2018
fix single account blocking on email scrape
3.477 05/09/2018
watch stories module option to watch accounts story reel timeline
3.476 04/09/2018
fix issue with duplicate pausing when scraping profile details for filtering
processing action > right click > edit action > ignorefilterpause option added to ignore forced filtering pauses
HELP > CONFIG > IGNORE FILTER PAUSE option added to ignore all filtering pauses for all actions
react to comments > like comment function added
3.474 03/09/2018
better break out if ISG starts returning duplicate search
ease of use functionality to scrape contact business emails on scraper tab
3.473 30/08/2018
search and watch all stories of profile feature added
url partial match filter will remove empty elements if passed in
3.472 28/08/2018
accept requests log DM to records
follow back added to accept requests
delay send DM for REACT module to allow setting of hours and having a new action created to send DM
3.471 24/08/2018
approve detect block and stop
ad detection improvements
3.470 23/08/2018
DM after accept follow request
Accept follow requests now with max_items
Improvements to download inbox and send custom response
spintax works with empty elements
3.468 16/08/2018
followers bug fix where would ignore if user following is 0
3.467 15/08/2018
email code submit success detection improvements
3.466 14/08/2018
3.465 13/08/2018
verification / email code submit update due to ISG changes
3.464 10/08/2018
accounts list can export the rows to CSV via right click > export rows to csv
3.463 07/08/2018
rss improvements when handling multiple XML properties that match
3.462 28/07/2018
3.461 23/07/2018
scrape profile details to update details csv keep original spacing
auto mentions / tag unique update
3.460 22/07/2018
improvements for import accounts with pop settings
daily stats export bug fix to show file if selected
3.459 21/07/2018
scraper tab > profile search option to save out in format to bulk update acc information in csv format
unlike from file
3.457 17/07/2018
Watch images: album upload
Album upload added
Repost albums added
React: image tags added
React: mentions (captions / comments)
Inbox download auto repost option for story mentions (notification is a DM)
Inbox viewer tab, repost button added to repost specific shared / mentioned media
Repost as story added
Watch image post as story option
Fixed issues with story posts with mentions / hashtags (story mentions now send auto DM
react once per account option added
react fixed issue with marking activities as seen when not reacted to causing future parameters to not fire
block / unblock improvements for # requests made
accept requests improvement
loading infinite loop bug fix
3.455 10/07/2018
pre action on a profile search fix
3.454 08/07/2018
whitelist urls will pause during unfollow action when ignoring
video repost update to handle new format of video media URL
post stories with location explore URL fix
3.453 07/07/2018
pre actions on media actions to use the found media for 1st media pre action
3.452 06/07/2018
filter options: ignore business / only private
3.451 03/07/2018
improved logging
partial match include / ignore terms for user filter
3.449 02/07/2018
timeline feed updates to handle multiple ways of showing timeline data
bug in recent update to pre-actions comment order causing some actions to not load fixed
3.447 30/06/2018
direct share fix for multiple shares
direct share work with file path of urls / usernames update
3.446 29/06/2018
timeline update to handle multiple data format responses
3.444 27/06/2018
output actions processed to HELP > APPDATA > userlogs folder
ignore sponsored posts update
more delays when checking followers status per item for unfollows to avoid warnings
3.443 26/06/2018
verify followings for ghostfollowing update
3.442 25/06/2018
unfollow - do not unfollow followers double scrape bug fixed
direct share pre actions bug fix
location randomisation on action run
3.439 21/06/2018
fix for video reposting / uploading for non English countries with different 1,000 / 1.000 and 2.1 / 2,1 notation
3.438 21/06/2018
filter bug recording profiles to avoid duplication in check user filters on image actions when testing user feed
3.437 19/06/2018
edit / view whitelist added to unfollow tab
datatbase reading bad file handling improved
follow tab > followings to whitelist will save out items that are to be whitelisted)
3.437 19/06/2018
edit whitelist (follow tab) update
3.435 18/06/2018
better handling of db records that fail to load
fix for 3.432 update: improved logging for failed requests
3.434 16/06/2018
calibration debugging build
fix for 3.432 update: improved logging for failed requests
3.432 13/06/2018
stats scrape update to not drop out if a single account fails
improved logging for failed requests
global processed logs issue if specify a blank name fix
3.431 11/06/2018
device ID improvements *existing accounts can generate new (correct ids via: right click account(s) > UPDATE DEVICE IDs
testing branch bug fix
fix bug with update accounts when only changing url
3.429 07/06/2018
run now thread linger bug fix
image filter user filter avoid duplicate checks when checking userfeed
3.428 06/06/2018
repeat after hours is no longer basic hidden control
improved unique detection for mass actions
3.427 05/06/2018
automatic image caption updater feature added
3.426 02/06/2018
account filter tags persist over tabs
config > follow verify check option added to confirm each follow has held
user Id / url pause issue solved
location filter reload fix
share / multi actions will not cancel on warning but override settings tab and block
3.425 01/06/2018
Mass Comment Likes module added
Improved return types for Scrape Comments
fix automatic cover resolution bug with upload video
scrape images module will scrape images from photo album update
3.422 31/05/2018
Memory leak with viewing real times fix
detect if account banned and update account list
Comment ordering fix
3.419 31/05/2018
fix bad update keys signature in last update
3.418 30/05/2018
hashtag popular (rank) and both (rank / recent) added to custom search
custom search added: scrape user mentions in image bio and image tagged users AND mentioned users
3.416 26/05/2018
search fix when using multi / custom and dropdown was from file
3.415 24/05/2018
grouped stats actions now available
image filter includes partial / word matching options for include / ignore terms
3.414 22/05/2018
media processed item double record issue fixed
auto stats scrape force redraw when run
3.413 22/05/2018
add whitelist debugging confirmations
upload video alter bytes removed test
3.412 19/05/2018
fix issue with scrape tab select account
post image with location fix
3.411 17/05/2018
better ban detection
config log out whitelist / unfollows option: HELP > CONFIG > add file: whitelistdebug.txt
3.410 14/05/2018
Very much a testing build: install if you need or really want to see the new features (or need a fix)
loading issue for some accounts fixed
unfollow followers only scrape to ignore settings tab max scrape results
improvement updates
mass action water folder fixes runnext option
3.409 10/05/2018
Very much a testing build: install if you need or really want to see the new features (or need a fix)
accounts list caching update
acc db reader fix
3.405 09/05/2018
Very much a testing build, account tag campaigns could possible cause some dialog messages that don't make sense / incorrect labelling of action
fixed bug with updating multiple types of accounts list
accounts view list will show app key and label if out of date
right click > update API APK app key added to accounts list
search+action tabs / image tabs / mass tabs can now assign campaign account tabs: more info on that on the forum
accounts list caching and drawing updates to make things quicker / less ram intensive for many accounts
3.404 08/05/2018
mass action tab from of ids fix
mass action tab handle already processed items without dropping out
posting without location fixed (previous update bug)
post as story update
watch stories update
mass reader watch actions to have EDIT ACTION > always run now / next options
most actions (all?) can run using acc tags instead of accounts, will load in all accounts with that tag at action start, so accounts can be added / removed from action by altering accounts account tags
3.402 07/05/2018
location posting support added to images / watch folder / rss image posting
3.401 07/05/2018
minimise to system tray
filter include will check external URL
improved filter include word detection
filter ignore if default avatar added
scrape USER CSV details option to include last post details
update profile from FILE fix
conversion detection improvements
3.400 03/05/2018
auto responder sequences auto reply to new DMs received
fix for accounts tab and image not existing causing crash on close
backup checking and fixing current processed item log if items missing added to right click
3.399 03/05/2018
urls in DM to work with www.rootjazz.com style links (no http)
update for account details showing avatar bug
3.398 02/05/2018
watch folder fix to not need a schedule date (previous release bug)
3.397 01/05/2018
show account details on accounts details form
update accounts form will show account details
post schedules from watch image folder
urls in DM will now be clickable
custom auto responders based on keywords in DM received
3.396 30/04/2018
regression fix for recalibration followings / unfollowings being lost in last update
3.395 27/04/2018
random access auth issue for database folder access fix
3.394 27/04/2018
improved account editing CSV options
loading error from processed logs error loop fix
improved handling of processed logs on load issue
upload avatar fix
3.393 26/04/2018
forced logout response on POST request fix
no followers found after 4 pages protection updated
3.390 24/04/2018
custom search> commenters output scrape tab fix
unfollow whitelist update
better detecting req_verificaiton flag to block accounts
scheduler daily run with working days causing 0000/00/00 scheduled dates fix
3.388 23/04/2018
backup restore function (right click action tabs)
full db backup routine added: TOOLS > CREATE BACKUP
3.385 21/04/2018
Mass Action watch folderm single file method allows option: threads:XX to specify num_threads
search scraping not hitting limits improvement
3.383 18/04/2018
unfollow memory fix
mass action watch uploader (auto): acc tokens added: rand_XX, acctag_tagname
mass action watch uploader (auto): multi_file.txt special file to allow adding via single line with format: url,num,pausemin:pausemin,accs
3.380 18/04/2018
unfollow scrape followings fix
better mapping of processed logs for botunfollows to remove previously unfollowed
do_not_cancel config option on search actions added (after removal)
3.379 15/04/2018
following calibration update
unfollow bot follows ordering update (may be an issue after calibration in previous versions)
GUI import / export fix
like from list if profile URL fix
3.378 15/04/2018
follow tab > whitelist improvements / fixes (will not attempt follow will not unfollow)
follow tab > calibrate updates to ensure bot follow logs map to actual followings and ensure all current followings (bot and manual) are known about and not attempte
3.377 14/04/2018
3.376 13/04/2018
business filtering order
improved randomisation multi search
unfollow followers otpion added to do bot follows only or all
3.375 12/04/2018
multi search cancel loop fix
run now fix
right click processed log cleanup
better processed logs / matching
follow tab > scrape followings to follow / unfollow whitelist
3.373 11/04/2018
Forced update due to ISG changes in transform URL / Username to ID
3.372 11/04/2018
shared actions no accounts left due to daily limit fix
added profile bio search (via google scraping)
3.371 11/04/2018
3.370 10/04/2018
processing tab > right click > RUN NOW to run action now in a new thread
run processor > pause > remove all actions > add new actions > single account action ignored bug fix
HELP > CONFIG > remove completed / all actions after run options added
check account is private position in filter checks moved to avoid "cannot view user" log
Unfollow via all IDs in database fix to avoid possibility of unfollowing external items if detected previously and whitelist if added as ID
3.369 03/04/2018
ghost followers scrape of last N days of images of profile
order of images fix mkII
3.368 31/03/2018
follow whitelist option to enter list or from file
order of images to post fix
3.367 29/03/2018
video upload framerate fix for cultureinfo with decimal as 23,97
3.366 28/03/2018
settings tab > on warning WAIT option now allows option to cancel if receive N warnings per action
better scrape tab action to save out if cancelled
rebuild
debugging video framerate spec
3.364 27/03/2018
add accounts flow improvement for information on verification / challenge process
bug fix for local email code submit
3.363 20/03/2018
3.362 19/03/2018
gender logging updates
another minor update my brain is failing to remember..
3.361 16/03/2018
cancelled search fix so will save out results so far
notes (likers) fix
3.360 16/03/2018
3.359 14/03/2018(本次升级主要解决昨天设置follow数超过100就没法follow的问题)
datetime parse autostats fix
followers / followings scrape fix update
3.356 13/03/2018
Update due to ISG changes breaking functionality
3.355 13/03/2018
search results indexing fix
3.354 09/03/2018
auto stats scraping on logging every X hours added
pre action follow pause added
randommise search actions in multi search
block hours gui fix
extra debugging code
3.353 06/03/2018
added WATCH STORIES to pre-action functionality
scrape stories of user added
scrape my story feel added
like stories function added
comment stories function added
repost stories function added
auto-reply to new DMs via scrape inbox function added
auto-repost shared images via scrape inbox function added
fixed issue with scrape followers in unfollow action
rebuild already actioned items in preactions fix
3.350 06/03/2018
added LIKE COMMENTS to pre-action functionality
fixed issue with pre-actions and duplications
3.349 03/03/2018
accounts tab > set pop settings fix
3.348 03/03/2018
scrape tab: profile engagement scrape function added. More info on the forum post
3.347 02/03/2018
fix single processing control on settings tab
improved local block account row updates
daily run repeat time fix
3.345 27/02/2018
server verify fixes
local email code submit bug fix
3.344 27/02/2018
recaptcha challenge support added
verification improvements
3.343 26/02/2018
mass actions repeat in minutes added
unfollow scrapes ignore global limits
3.342 24/02/2018
Server Verification with residential proxies added to bypass verification loop. RC build - go easy, any problems please report to Instadub forum
3.341 21/02/2018
bug fix if you don't set cover image for: customise each video caption /schedule / cover scheduled times by double clicking row in selected videos to upload
3.340 20/02/2018
customise each video caption /schedule / cover scheduled times by double clicking row in selected videos to upload
3.339 18/02/2018
bulk update proxies setting N accounts per proxy
3.338 14/02/2018
random function added to accounts list
3.337 12/02/2018
better handling all input styles @username, username, profile url, id, hashtag, #hashtag etc
3.336 09/02/2018
unfollow checks per item improvements
3.335 07/02/2018
direct share fix
mass reader works with accs:all
3.334 06/02/2018
3.333 02/02/2018
view stats bug fix creating additional daily stats action
edit db option added to %apply on search+action items
3.332 31/01/2018
unfollow routine will not double check friendship and not at all if specified to not (fix)
3.331 30/01/2018
unfollow option to load all processed items IDs to attempt to unfollow those with changed usernames / profile URLs
improvement to unfollow from bot to use followed IDs from now on
3.330 25/01/2018
clear list link on images tab, clears items and not columns fix
3.330 23/01/2018
comments shared accounts label when not specified
update accounts causing deletion of bio fixed
3.328 18/01/2018
unfollow - ignore followers option to scrape followers or test per item
3.327 11/01/2018
labelling error fixed
unfollow from list option to unique added
debugging apparently duplicated actions recreated
3.326 03/01/2018
IMPORTANT UPDATE for anyone who installed 1.386: maxitems bug fix
3.325 02/01/2018
follow tab edit whitelist function added
unfollow fluct fix
shared account comment action fix
3.324 29/12/2017
daily runner fix if action completes next day
scrape notes logging error fix
scrape tab file selection box, view text files fix
pause > edit > restart scheduled date fix
pause > reschedule > restart losing reschedule date fix
3.323 22/12/2017
location filter on images fix
unfollow whitelist speed up
3.322 22/12/2017
multi search allows fluct per search
old blocks removed / not display on accounts list column
3.321 22/12/2017
improved accounts list update regarding verfication required
local blocks column added
3.320 19/12/2017
logging items processed by search actions for debugging
3.319 19/12/2017
custom single processing mode
unfollow losing nummax / maxitems on repeat / redo
3.317 18/12/2017
accounts form save > verify > fail > verify > save fix
3.316 12/12/2017
3.315 11/12/2017
Bug fixed in previous update: Image filter can now ignore already processed accounts every X days: so can like one image per account every X days
3.314 08/12/2017
Image filter can now ignore already processed accounts every X days: so can like one image per account every X days
Activity scrape added to store engagment on your medias
User filter added to interact with engagement scrapes to filter in/out based on when account last engaged with your account
3.313 08/12/2017
3.312 07/12/2017
multi search break out fix
3.311 05/12/2017
better logging recalibrate followings
actions from files will not de-dupe
custom reaction to warnings custom block fix
react module bug fix when setting maxitems peraction = 0
3.310 01/12/2017
block on warning allows specify hours to block
recalibrate followings to processed logs option
split video timings not applied if split video not selected fix
3.309 29/11/2017
Verify emails with pop details update
3.308 28/11/2017
3.307 27/11/2017
select actual video file to upload added
daily stats can repeat from start
conversion view opens up a text file
3.306 24/11/2017
update browser components
whitelist ID support
warnings / blocks when cancel selected - attempt to find out why block still applied
3.305 15/11/2017
image filter option to ignore own media
react module allows setting limit of items to process for that action
react module allows setting scrape limit of activity per action (used as basis for reactions)
3.303 09/11/2017
handle users corrupted database custom fix
versioning
3.300 01/11/2017
scrape tab fix: a media / a user inputs for custom search allow list of inputs
3.299 30/10/2017
a media / a user inputs for custom search allow list of inputs
3.298 23/10/2017
repost first image if multi image post
improved checkpoint detections / handling of failed response from ISG
3.296 21/10/2017
preactions logging to know how many preactions liked
3.294 16/10/2017
3.294 16/10/2017
3.291 13/10/2017
config file custom pauses for scraping from file
profile location filter added
3.290 12/10/2017
easier checkpoint clearing link from account details form added
minor updates
3.285 09/10/2017
local block cancelling actions not marking action as completed fix
bug fix reloading account on waiting actions
profile pic upload specify file allows images and not text files bug fix
3.284 07/10/2017
filter options added: include category / email / phone
scrape data full option added to scrape tab (involves additional request to get full data to CSV output (category / phone / email)
rebuild
scraping user details location save fix
3.281 04/10/2017
suggested scrape added
scraping user details fix
scraping user details location changed to CSV (not JSON) with more columns
3.279 02/10/2017
media scrape details improvement attempt
comment action efficiency speed up
3.277 29/09/2017
commenters scrape fix (affects commenting if unique)
3.276 27/09/2017
scrape tab JSON and FULL JSON options added as result type: json will be JSON data model of returned data, FULL JSON will be additional calls to get full profile details (profile searches) and for media searches: json comment data media and profile of media
3.274 27/09/2017
build profile URL on profile filter from media filter fix
data CSV media return type includes more location info
3.273 26/09/2017
3.272 22/09/2017
promo module follow / commenter daily limits fix (today / 24 hours)
unfollow inactive delays added
3.270 21/09/2017
option login verification routine
delete images fix
paging commenters scrape support added
3.268 18/09/2017
better forced pausing on large filters
multi search daily limit hit log spin fixed
stats scrape attempt new followers only
stats scrape option to scrape conversions
minor updates
3.267 16/09/2017
improvements to promo module searching
3.266 15/09/2017
versioning
scrape stats and check is following users before trying to scrape followings
delete from list
only unfollow if following X
filter image bug crash fix
3.264 14/09/2017
delete from list
only unfollow if following X
filter image bug crash fix
3.262 13/09/2017
unfollow debugging
multi search bug fix if specified a file in the normal search box
comment fix for losing caption mentions
3.261 11/09/2017
post multiple comments to same image with single comment format: hello %%% nice image %%% I love it (this will post 3 comments to the same image with the same account)
3.260 08/09/2017
logging and debugging
fix more bugs with 3.257 release
3.259 07/09/2017
stats action locks bug fix
fix bugs with 3.257 release
3.257 06/09/2017
require verification will not disable the account until check is removed manually via account details form / right click on accounts list
unfollow after X logging / checks update if not being used due to not bot follows action
3.256 04/09/2017
3.255 03/09/2017
improved working with files for search and action tabs
improved logging for search and action tabs
3.254 02/09/2017
custom search bug fix where user filter not dropping out of like action when all steps results are same user
Promo mode advanced mode added where you can specify multi searches
3.252 01/09/2017
gui fixes
promo logging
shared DM fix to not cancel out if one account cannot login (better handling of shared actions with login issues for all actions)
follow bug added in 3.250 fixed
3.250 31/08/2017
follow tab multi search fix
mass tabs unique option added
3.248 30/08/2017
promo module improvements
promo module bug fix filter complete early loop
handle non jpeg images update
multi search import / export added
unfollow repeat minutes added
3.243 26/08/2017
multi search added to follow / like tabs
improved custom search pauses when looping over large result set for next step
Timeline can include (excludes by default) by specifying search term input as "ads"
Fix promo bug where search thread is waiting incorrectly
Import / Export tab settings option added
clear link added to post images tab
global settings to cancel searches after 0 new results after X pages
ability to post comment to React comment reactions
3.242 25/08/2017
Shared follow redo / repeat fix
better logging of media IDs and URLs
promo module updates
blocking on warning detection fix
banned check bug fix
filter days less than fix
block function added
unblock function added
block/unblock module to use maxitems / repeat values from follow tab
3.241 23/08/2017
unfollow list pre processing empty item causing actioin to fail
image filter description ignore / include update for better splitting of words / hashtags
3.237 22/08/2017
fix for promo logging bug introduced last update
watermark token fix attempt II
scraping include filter fix
3.236 21/08/2017
record followings if user is private
my acitivity bug fix
debugging reported failure to block on warning detection
3.235 19/08/2017
improved logging timeline
unfollow filter added
persist custom useragents
fail if useragent not valid
3.234 18/08/2017
scrape tab > user search > custom search > ends with "creator" filter fix
if warning received after action, option to cancel / block / pause added
better pausing of promo module if all actions blocked
unfollow accounts if inactive for >x days added
3.233 17/08/2017
update bio to allow tokens
3.232 16/08/2017
scrollable scrape tab
image filter user properties drop out if multiple checks on same user
scrape tab > from list fixed to work from file.
image details scrape from scrape tab save details to include location data if present
reload last used filter to persist on app restart
3.231 11/08/2017
scrollable scrape tab
scrape users tagged in image
if user feed scrape fails a profile filter, drop out of search early
3.227 10/08/2017
improved basic view hiding
repeat actions from start time (not end time) option added
3.226 08/08/2017
scrollable scrape tab for low res monitors
randomise over X label update
3.225 07/08/2017
randomise actions over x hours
fix for post as story
cannot cancel promo module fix
3.224 05/08/2017
remove option to share for RSS image posting as doesn't do anything
remove already processed bug fix
3.222 04/08/2017
promo loading of previous saved items improvements to avoid memory issues
basic view hiding bug fix for controls shown when should be hidden
3.220 03/08/2017
stop when find previous results updates / improvements and fixes
3.219 02/08/2017
fix hide complex options hiding maxitems: follow tab
debugging
3.218 31/07/2017
option to hide / show basic controls only: views > basic view mode
better handle image filter 10 in a row fails
better detecting 429 in image filter
attempt get more info for 400 response on like
3.217 28/07/2017
improvements for break out and end action after multplie failed filter attempts to get user / image details
media actions working with profile input improvements
3.215 27/07/2017
GDI cropping bug fixed for images within aspect ratio addded in 3.213
bitmap manipulations dipose bug fixed when cropping aspect images if image been opened in image specific meta set
3.213 26/07/2017
Images no longer squared unecessarily, will keep images within allowed aspects: 1:1.25 1.9:1
DM from file of profile URLs bug fix
couple of other minor things I cannot remember
3.212 26/07/2017
promo modules updates / improvements
custom search filter bug fix
3.210 25/07/2017
Account proxy delay option added to ensure a minimum delay when processing items via accounts that use the same proxy: HELP > CONFIG > ACCOUNT PROXY DELAY: info here: account proxy delay
pre-action follow not reloading into the control correctly bug fix
Unfollow bot follows databaes manipulation bug fix
3.207 25/07/2017
num media column bug fix on accounts control
stats view stats accounts control updates for reloading / loading / updating accounts
3.204 20/07/2017
hide password config file option: hide_password.txt
3.203 19/07/2017
bug fix for daily processed count if find a bot follow item to unfollow that is not follow
filter not being applied in custom search if next step is a single result (creatorOf / latest media of) bug fix
3.202 17/07/2017
Promo View Update
3.201 17/07/2017
single account processing setting reload bug fix
updating stats accounts list cross thread update bug
Promo View Update
3.200 15/07/2017
Promo View update
Improved Stats view of items processed in 24 hours / today
Conversions (follow backs) detect in stats
Conversions output view from action types (likes / follow / comments etc)