由于购买我们外贸基地twitterdub 这个推特营销工具的客户已经比较多了,前面邮件发送升级的方式已经不方便了,现在起我们把最新版本的twitterdub软件放到网站上,有更新会及时发布,大家自己到我们的网页上面获取更新就行。
目前最新版本号:3.419更新新日期:2023-6-2
新版升级可以支持自动识别谷歌的recapthca人机验证 ,需要单独购买并设置2capcha 的打码账号,购买教程:
twitterdub 最新版本下载地址:
主界面: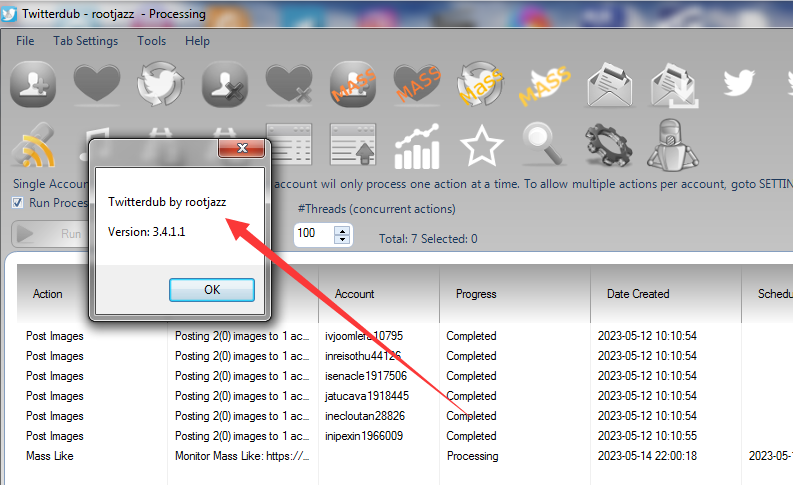 Twitterdub 更新日志:
3.419 01/06/2023
global log name backsup restore: under TOOLS menu:
3.416 26/05/2023
Userfeed update
SFT actions to allow non-shared divide results
Tweet twitter schedule allow dynamic time setting within action, as well within UI
3.414 18/05/2023
REBUILD: fixed post tweets bug introduced in 3.411
3.413 18/05/2023
fixed post tweets bug introduced in 3.411
3.412 16/05/2023
Twitter scheduler fixes
delete tokens / delete GUI working with scheduled times
delay reply working with scheduled times
auto mass write creation working from scheduled time
tweet search bulk results update
3.411 13/05/2023
tweets can be posted to Twitter scheduler
3.410 11/05/2023
chatGPT max_tokens support added
chatGPT detect length issues with rseponse and increase max_tokens to get a better response
accounts > right click > global processed > shared items to global (all / action specific). Also TOOLS menu
some other things I cannot remember right now lol
3.409 08/05/2023
amazing updates
3.408 03/05/2023
gt / auth logging
couple of other minor things
3.407 01/05/2023
reply lower case fix
chatgpt response JSON formatting handler update
3.406 26/04/2023
medialoop fail fix for new actions - old actions need be re-added
reload RSS actions fix
3.405 22/04/2023
numericstring error handling attempt
probably something else I cannot remember
3.404 18/04/2023
database bug update causing actions not to load: attempt2
3.403 17/04/2023
database bug update causing actions not to load
help > config > options > chatgpt proxy
3.402 11/04/2023
scrape tweet details update
3.401 05/04/2023
chatgpt replies
max search results value used for tweet ID URL search bug fix
MASS REPLIES can use custom replies based on keywords in tweet replying to
MASS REPLIES profile monitor can have filter
MASS REPLIES can check historical tweets over (n) days if latest tweet already replied to
various bug fixes
3.400 31/03/2023
0 results protection added to avoid all results attempted
import bad cookies doesn't stop import, just ignores that cookie
3.399 30/03/2023
arkose update
some other things
3.398 2/03/2023
Auto create Mass Actions on Tweets and QFT GUI/Wizard added to simplify use of watch files / folders
3.397 14/03/2023
group saving update fix
3.396 06/03/2023
roundup outstanding features
3.395 23/02/2023
inbox accept requests logic fix
3.394 15/02/2023
rebuild to ensure login loop fix
3.393 13/02/2023
unique fix
config: HIDE PRE RUN CMD WINDOW
RunCmdsBeforeEachAccount tweet details shared request fix
3.392 10/02/2023
rebuild
fix load meta function
3.391 09/02/2023
arkose ID update
3.390 08/02/2023
SMSPVA country code unicode fix again
3.389 08/02/2023
run cmd GET with username:pw format update
login loop fix [art2
update change lang auth fix
import / export meta settings to stay on screen lol
SMSPVA country code unicode fix
3.388 07/02/2023
run cmd GET with username:pw format update
login loop fix
update country code auth fix
complete action if posted all content
import / export meta settings
3.387 02/02/2023
edit post tweet actions fix
fluct unfollow max items fix
3.386 1/02/2023
urgent bug fix for tweet.view_count causing issues
3.385 31/01/2023
debugging updates
language fix for duration video processing
3.383 25/01/2023
UPDATE ACCOUNTS support for country and language
Accounts list shows accounts location / language / country settings
3.382 19/01/2023
include / ignore filters can be bio only
3.381 18/01/2023
image post bug fix
arkose captcha in login flow supported
arkose captcha ID update
3.380 18/01/2023
commenting unique options
3.379 11/01/2023
Automentions data reset fix on action repeat
3.378 05/01/2023
handle login change password flow email code extraction with manual and POP
3.377 04/01/2023
various updates
3.376 16/12/2022
rebuild.
3.375 15/12/2022
right click | edit action allows setting per account RUN CMDS on search action (follow / like / DM / retweet) and Post Tweet actions.
3.373 12/12/2022
search username fix
3.372 10/12/2022
export account info from processing tab
change video working directory to custom directory: HELP - CONFIG - Custom directory for video
username suggest endpoint checked before posting username
3.371 03/12/2022
attempt to better update Accounts list when running many accounts / actions causing locking / freezing
3.370 01/12/2022
Update username detects if username already been used and appends number
3.369 01/12/2022
Mass Retweet with automentions
3.367 25/11/2022
sms-activate.ru black list / release API call fix
3.366 24/11/2022
sms-activate.ru fixed for UPDATE ACCOUNTS > set SMS API
SMS flow improvements
3.363 2/11/2022
+ sms-activate.ru added
partial match for include / ignore filters added
3.362 21/11/2022
+ country code phone import
other updates
3.361 15/11/2022
debugging
3.360 08/11/2022
Fix: custom import regression bug
inbox module save our conversation IDs
DM module work from filepath of conversation IDs
3.359 01/11/2022
Fix: SEARCH REPLY action drop out on complete one shared accounts limit
3.358 31/10/2022
Custom Import custom sep char specification allowed
Fix: search actions dropping out before tested all accounts debugging / fix attempt
3.357 27/10/2022
exporting debugging
SCRAPED tab > profile scrape > output DETAILS includes created_date of account
search actions dropping out before tested all accounts debugging / fix attempt
3.356 26/10/2022
web email profile scrape now includes 404 output
processed_logs fix
minor updates
3.355 19/10/2022
followup fix
3.353 05/10/2022
DM with follow up token first item url bug fix
3.352 29/09/2022
custom config bypass high thread limit bug fix
pre action comment panel hidden bug fix
debugging logs for userfeed+retweet
3.351 27/09/2022
trying to stop users breaking custom inbox replies mkII
3.350 24/09/2022
pre actions comments added
remove SFT actions 100 thread limit
inbox custom reply fix bug that allows you to specify same tokens causing crash
fix bug with userfeed+retweets step ignoring retweets due to new twitter spec
auth token added to CUSTOM IMPORT to bring in auth_token
fix bug with action option "allow_password_change" stopping account allowing password_change
3.349 21/09/2022
action fail log: follow up DM ignored fix
3.346 31/08/2022
auto write files added to WATCH USERS FOR TWEET
Acc tags shown in accounts list
single account action from list de-duplication from global files fix
3.345 31/08/2022
acc tags menu fix
search & reply /copy shared accs fix
shared account selection if account cannot run flow fix
3.343 26/08/2022
DM allowed rebuild tests
other updates I've forgot
3.342 18/08/2022
Manual code insertion and request to proceed during ACCOUNT FORM account details insertion
email code manual insertion
sms code manual insertion
3.341 17/08/2022
Rebuild roundup
3.340 16/08/2022
Rebuild. If I told you your update is ready, be sure it is now
3.339 11/08/2022
delete tweet file fix
3.338 03/08/2022
POP settings handling improvements for import and account details form input
3.337 27/07/2022
better logging of accounts cannot be used in shared action
3.336 25/07/2022
Handle if tweet doesn't exist during processing of search items
Handle shared request failure better
3.334 24/07/2022
preactions on original tweets only
3.334 24/07/2022
preactions on original tweets only
3.333 23/07/2022
DM preactions
429 improvements
something else
3.332 12/07/2022
update improvements
handle new recaptcha flow
false arkose ID fix
3.331 07/07/2022
processor lock condiction fixed
file lock condition fixed
better logging
3.329 06/06/2022
promo update to use daily limit if less than promo number
3.328 04/06/2022
#my_firstname# token fix
Access URL flow fix
3.327 30/06/2022
Refactored login flows
MASS TWEET filepath fix
clone fix on long names
3.326 27/06/2022
Passwords with " in don't break login function
Login email verification code solved with POP details or manual code retrieval
SMS required loop fix
Clone account fix if target username too long
Update accounts tab, option to verify to SMS API
3.325 25/06/2022
Fix comma in reply text for Search and Comment / Reply filepath with CSV (or \t seperated) url,comment_text
Search and reply filepath format now supports additional column with file of image: tweet_url, text, filepath_image/video (supports \t sep as well)
3.324 24/06/2022
Fix for customer search tweet id: Search and Comment / Reply can take filepath with CSV (or \t seperated) url,comment_text
cookies and cookiesbase64 support for custom import
multiple image concurrency bug fix
3.323 22/06/2022
Search and Comment / Reply can take filepath with CSV (or \t seperated) url,comment_text
Group retweet update
3.322 20/06/2022
Login update
3.321 16/06/2022
loop issue fixed on blocked post tweet action
loop issue fixed on login
edit action property added to 'search and action' actions StopSearchAfterSearchPages so only (n) pages are checked for new results
edit action property added to repeat action with 0 repeat: RepeatNoWait = True
3.319 31/05/2022
bot unfollows, config option added to restrict to within last (n) days
processor debugging
3.317 17/05/2022
fix inbox auto responder sequence bug
ignore DMs sent from group from auto responder
option to ignore all DMs sent more than (x) days ago
3.316 12/05/2022
fix email scraper properly this time
3.315 10/05/2022
fix email scraper
3.314 4/05/2022
right click actions > bulk edit
mass write files handling
unique filter fix
handle illegal file names for global logs
3.314 4/05/2022
right click actions > bulk edit
mass write files handling
unique filter fix
handle illegal file names for global logs
3.312 29/04/2022
Fix for edit action
3.311 28/04/2022
Rebuild for Add to List update
3.310 27/04/2022
Ignore profiles in non-last step search steps fix
Detect if images too large and attempt to downsize file
Add to list import fix for num (optional) CSV input
edit action to show Account setting if account does not exist
Update Accounts > clone profile added
HELP > CONFIG > CONFIG OPTIONS > clean_processed_records added to clean duplicates
debugging for mass file write issue
3.309 26/04/2022
HELP > CONFIG > CONFIG OPTIONS > option to use . dot @mention format for auto mentions replace
edit action %2c issue fixed
avatar download will download large image
userfeedmedia search updated
3.308 23/04/2022
Mass Tweet Reply reuse accounts to hit MAX ITEMS value option added
3.307 20/04/2022
improved logging for debugging purposes
3.306 15/04/2022
scrape avatar will save bio and banner to folder as well
ignore / include media filter fixed
suggestions search fixed
profile related search added
3.305 07/04/2022
Arkose captcha support
Mass action Total Max Num Wanted: applied over all repeats, once the action hit this target action will no longer run until right click processing action row > ... RESET
TOOLS > SETTINGS > GLOBAL PRE RUN CMDs - CMDs to run before every action info
3.304 05/04/2022
Mass action fix
3.303 30/03/2022
Twitter follower limit response received do not cancel option: HELP > CONFIG > ADD > ignore_twitter_follow_limit
3.302 29/03/2022
Delete all tweets use new Tweet replies endpoint
Add to List save process > import fix
3.301 22/03/2022
RandomAcc editAction setting update
3.300 21/03/2022
schedule tweet right click option added
search fix update for when using new accounts with 0 timeline posts
3.299 18/03/2022
Comment module: Randomise comments option added
rebuild search bug fix update
3.298 17/03/2022
rebuild
search bug fix update
3.296 17/03/2022
useragent update debugging
EDIT ACTION > RandomOrderAccounts added for search_and_action actions to randomise accounts before use
3.294 15/03/2022
browser profile fix
3.293 13/03/2022
shared search accounts update
3.292 11/03/2022
watch folder videos order for any number of specified videos
3.291 10/03/2022
watch video order rebuild
edit action DM messages
3.290 09/03/2022
age profile filter
auto useragent update
auto account useragent update
search accounts added to search>process actions
filter accounts added to search>process actions
我们的微信
关注我获取最新的内容更新
微信支付
看中上面的宝贝可以选择微信付款